Welcome to Dazzling Pump Pouches!
Dazzling Insulin Pump Pouches is proud to offer the latest trendy fashions and accessories for your insulin pump & continuous glucose monitor, with adults & children in mind. Dealing with a medical condition can be difficult, but having a stylish pouch to wear helps those with type 1 diabetes feel better while adding a bit of fun. It also gives them something to look forward to when picking out a new pouch. We strive to make wearing an insulin pump as pleasant as possible.
Our insulin pump pouches can be customized to fit your needs whether you need a certain size, small design change, or wish to design your own. Please don't hesitate to contact me with any special requests, I will do my best to accommodate you!
We hope that you enjoy our products and visit often! New designs are created regularly so there will always be something different to choose from!
We have many different options for your insulin pump:
Fabric Front Pouch
Clear Vinyl Window Pouch
Bedtime Flannel Pouch
Personalized Embroidered Pouch
18" Doll Pouch w Optional Toy Pump
Add on Removable Dexcom or CGM Pouch
Spandex Pump Belts & Bands
Optional Trim & Charms
New Double Zip Single Pouch
**Please note that many of our pouches are not in stock and custom made to order - they are worked on in the order that they are received. Please allow anywhere from 3+ days after placing your order for it to be shipped out. If you are in a rush, feel free to contact me beforehand for an estimated time period.
BRAND NEW ITEMS!
Below is just a small preview of some of the new items that we have added recently. To see more of our big selection of insulin pump pouches, click on the "SHOP" drop down menu at the top of the page.
Our new single pocket dual device pouches are an excellent option for your Dexcom & Iphone or insulin pump. They are available with your choice of any fabric on the website and any other customization that you need.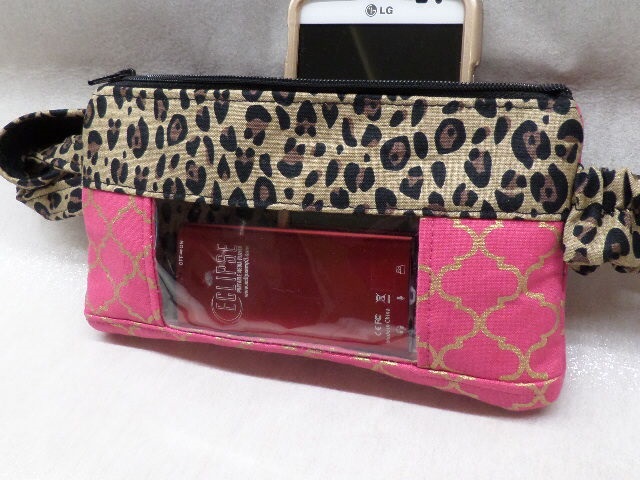 New Double Pocket Dual Device Pouches! These are great for multiple devices such as an insulin pump, Dexcom, and/or Iphone and in one simple pouch. The seperate front pouch has a handy clear window for either your insulin pump or Dexcom, the second pouch can be used for an insulin pump and/or Iphone. These can be made from most fabrics on my website and in any configuration to fit your devices. This pouch is a bit bigger than a pump pouch and is a nice option for those who cant use side by side pouches.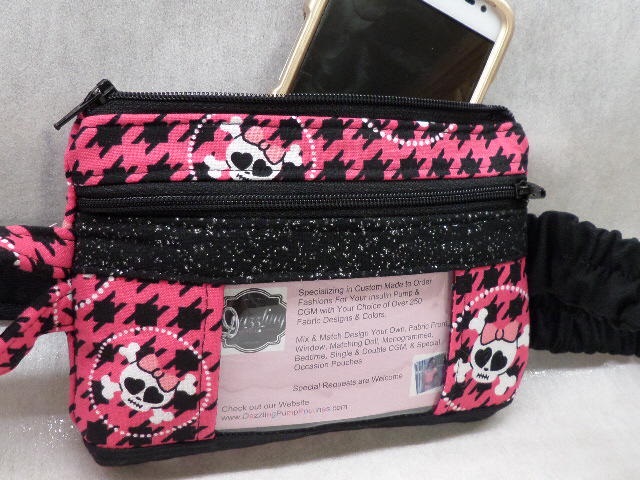 Slim Fit Spandex Insulin Pump Belts
These pouches start off small and can expand to fit any insulin pump. They are made with either spandex or regular cotton and have a comfortable velstretch belt which is adjustable. You can either pick from the belts listed on the site or you can choose any fabric on my website for your Slim Fit Belt.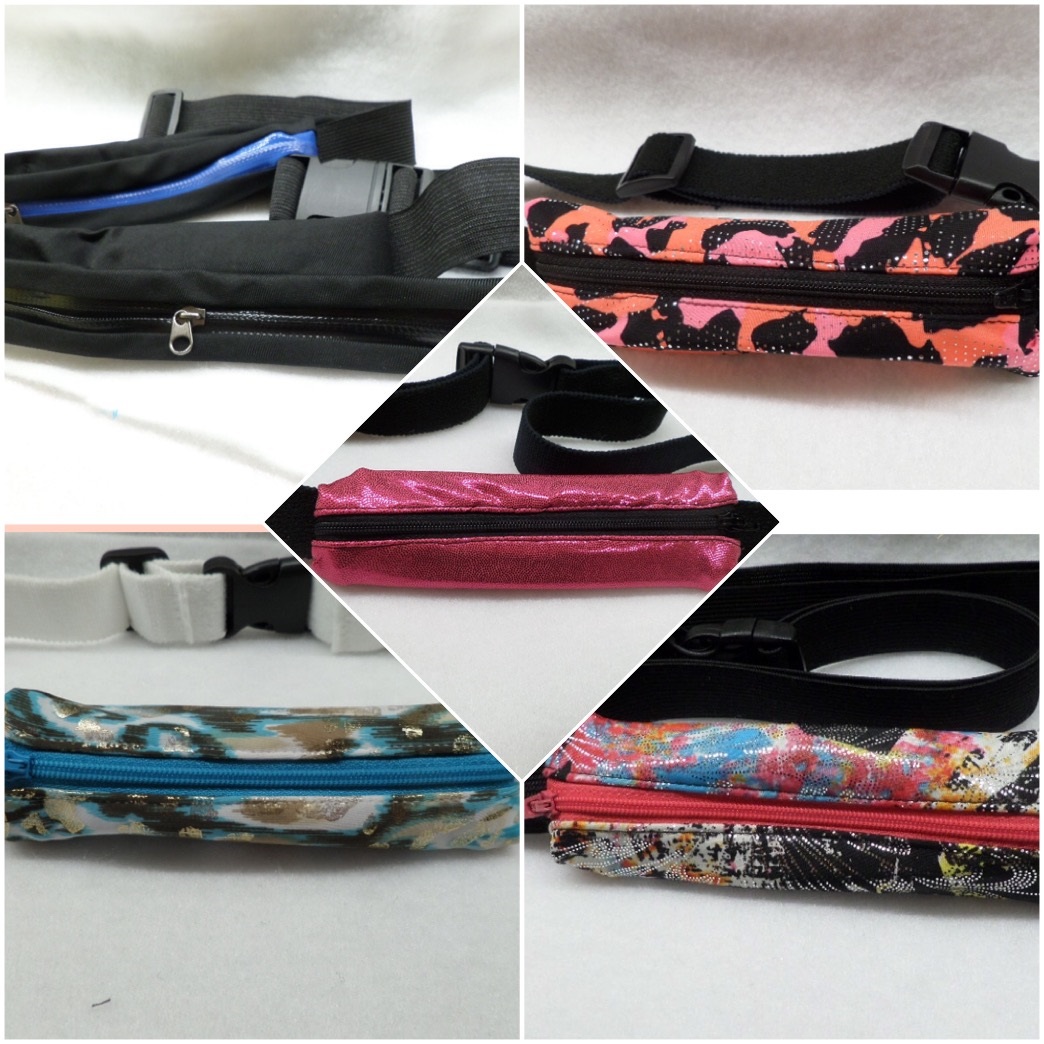 NEW ADD ON POUCHES!
These handy pouches can be custom sized and you can add on a belt loop in the back for easy removal or add a carabiner or swivel hook to clip onto your jeans or backpack.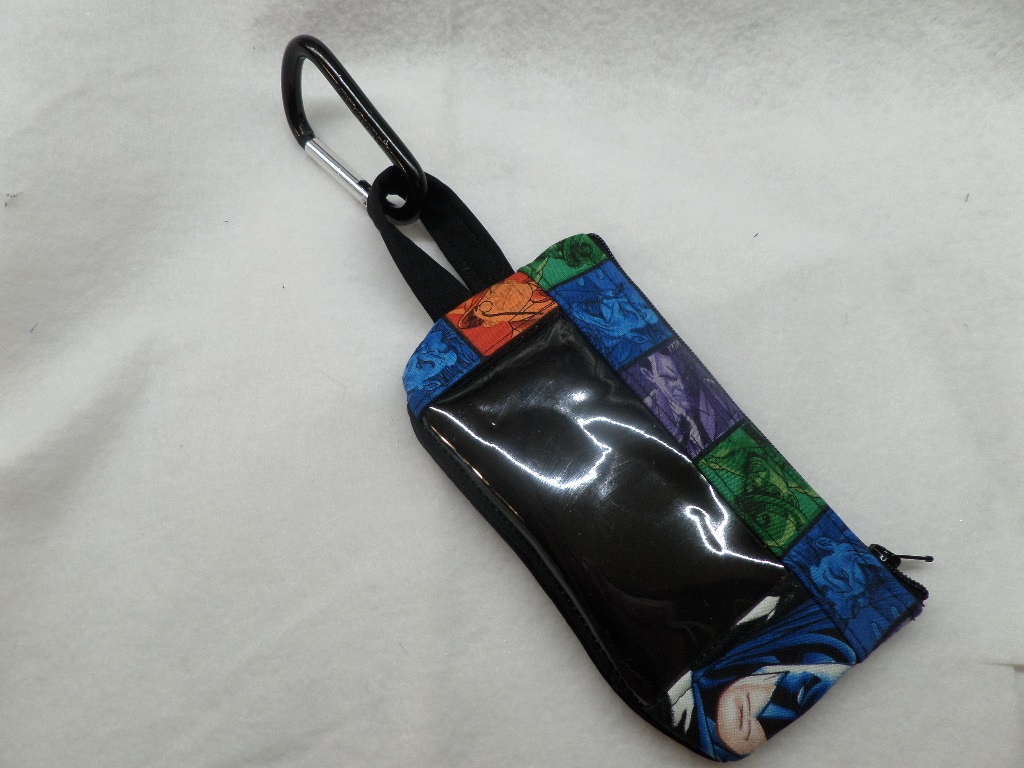 Coordinating Doll Pouches
We now offer matching 18 inch doll insulin pump pouches which are absolutely adorable! These options are available with purchase of a regular pouch upon checkout.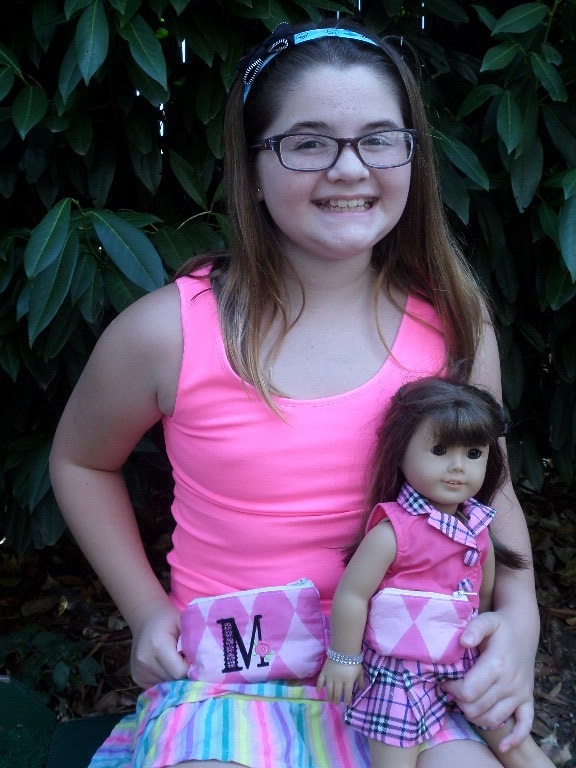 Double Dexcom CGM / Device Pouches
Our new double pouches have the option of fabric front and/or a clear window. The second pouch has a handy belt loop in the back to make it easily removable as needed. These can be used for a insulin pump and Dexcom or other device and can be custom sized to your needs.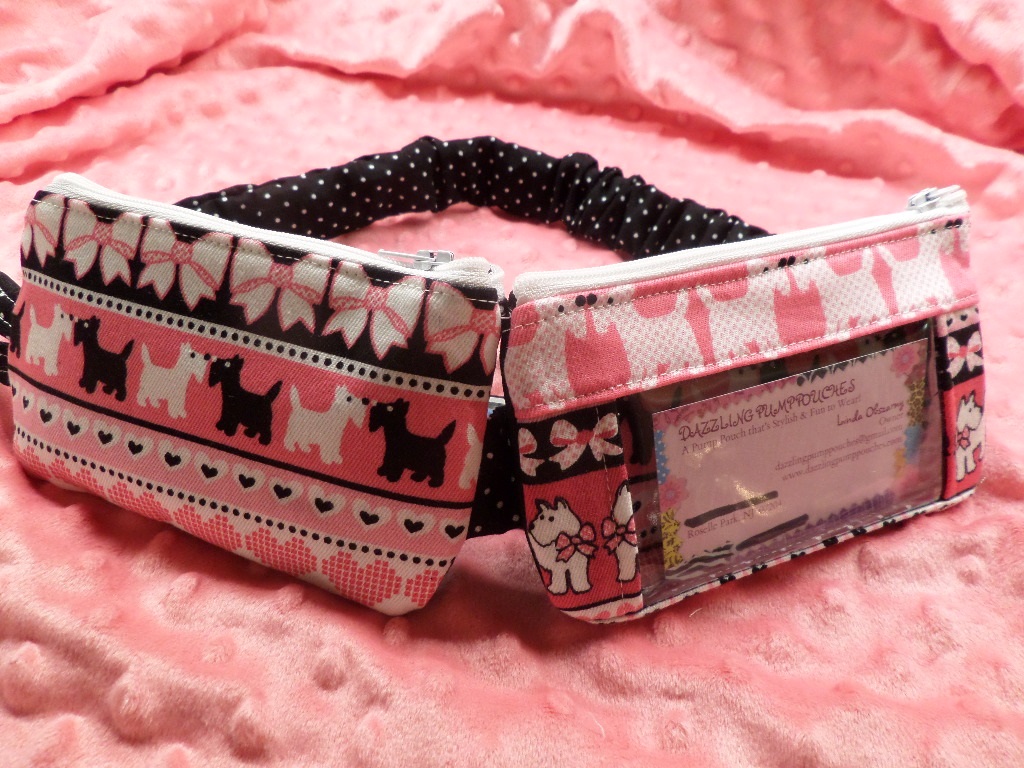 Dazzling Spandex Bands
Our insulin pump bands are a great alternative to a regular pump case. They make a great fashion statement and are so comfortable & easy to wear. Most of them have a padded pouch to protect your insulin pump. Please check back often as I will be adding new designs regularly.
Embroidered Personalized Pouches
Our insulin pump pouches can be monogrammed with your name and choice of thread colors to match. You have your choice of belt designs & colors (the pouch shown has a hot pink minky belt to match).